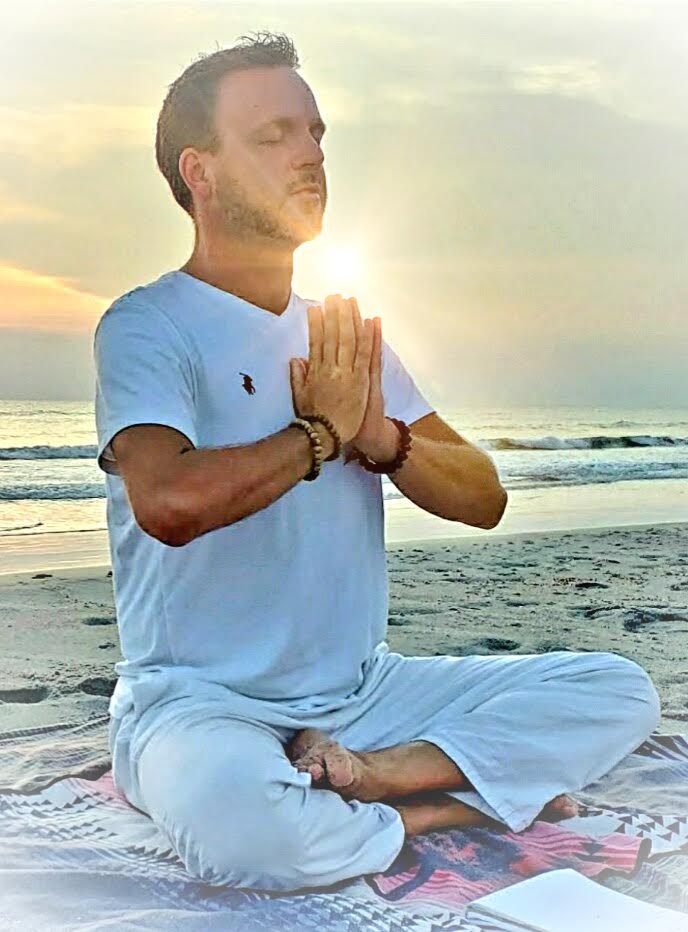 MINDFUL YOGA FOR VETERANS WITH BRIAN JONES
*FREE/COMPLIMENTARY VETERANS DAY CLASS FOR ALL VETERANS AND LIFE PARTNERS
OPEN TO THE PUBLIC – PURCHASE OF DAY OR WEEKEND PASS IS NOT REQUIRED!
NOTE: We love our children at Mahabhuta Yoga VegFest. However, due to the sensitive nature and community ambiance of this gathering, we are asking participants to not bring children to the class portion of this event.
Mindful Yoga for Veterans is an all-levels, 90-min class that targets the symptoms of anxiety, stress, depression, PTS(d) and chronic pain.
The focus of Mindful Yoga for Veterans is for each individual to safely establish a personal baseline of understanding and self-acceptance of their current limitations and capabilities on the mat in a soft, invitational, non-judgmental, non-violent environment. 
By creating a "personal container" for self-inquiry in a relaxed state, each individual is invited to safely explore sensations in their body, the quality of their breath, and their state of mind while being introduced to basic movement and yoga postures. Students are guided through a progressive, but gentle yoga sequence that stretches, activates, and rests the various muscle groups to help release tension in the body, ease the mind, and reset the nervous system – bringing the mind, body and spirit back to a state of balance, presenting an overall sense of calm and contentment.
Mindful Yoga for Veterans is open to Veterans of ALL-LEVELS, including those who may require sitting in a chair for more comfort.
NOTE: Please bring your own yoga mat & props.
While yoga props are not "required" for practice, they are highly encouraged to use as needed to find individual comfort throughout the practice. (Yoga mat, yoga blocks, yoga strap, bolster, & blanket)
Following completion of the class, join Brian for a Veterans social in the restaurant to share your experience, get to know each other and connect.
Brian Jones, E-RYT200, discovered yoga in 2015 at Kripalu Center for Yoga & Health in Stockbridge, Massachusetts while on a rest & relaxation retreat. His experience was profoundly transformational and he knew yoga would become an integral part of his life and path forward. Brian soon stepped away from his career of 19 years with the U.S. Department of Defense to travel, study yoga, and explore holistic wellness modalities to help reduce and manage his reoccurring pain from service-related injuries.
In 2016, Brian earned his 200-hour hatha yoga teacher certification at Sivananda Ashram Bahamas. He traveled around North America and abroad practicing and studying in yoga studios and ashrams, returning to Sivananda Ashram Bahamas for a 3-month karma yoga immersion where he lived, contributed to the ashram community, was immersed in daily classical yoga traditions and began his journey teaching on the mat. In 2018, Brian was invited to help facilitate yoga teacher training programs around Florida and eventually settled in Pensacola where he taught classes at Breathe Yoga & Wellness Center, Pensacola Athletic Center, and Bear Levin Studer Family YMCA.
As a U.S. Navy Veteran and ex-civilian defense contractor, Brian has always found comraderie and connection within Veteran & military communities. He is currently employed full time by the U.S. Department of Veterans Affairs as a Mindful Movement facilitator with Gulf Coast Veterans Healthcare System – teaching yoga, mindfulness, self-care and empowerment classes to Veterans.
​Brian's movement classes are found to be grounding & centering, yet challenging. Executed with a twist of both classical yoga discipline & a calming demeanor, with a strong emphasis on self-inquiry, connection of mind, body, breath & stress release.
Mahabhuta Yoga VegFest
Margaritaville Beach Hotel
165 Fort Pickens Road
Pensacola Beach, FL 32561
November 11-14, 2022
Mahabhuta Yoga Veg Fest Times:
Day 1: Thursday, November 10th, 2022 4:00 pm – 6:00 pm
Day 2: Friday, November 11th, 2022 9:00 am – 10:00 pm
IMMERSIONS & WELCOME DINNER
Day 3: Saturday, November 13th, 2022 6:30 am – 10:00 pm
Day 4: Sunday, November 14th, 2022 6:30 am – 9:00 pm