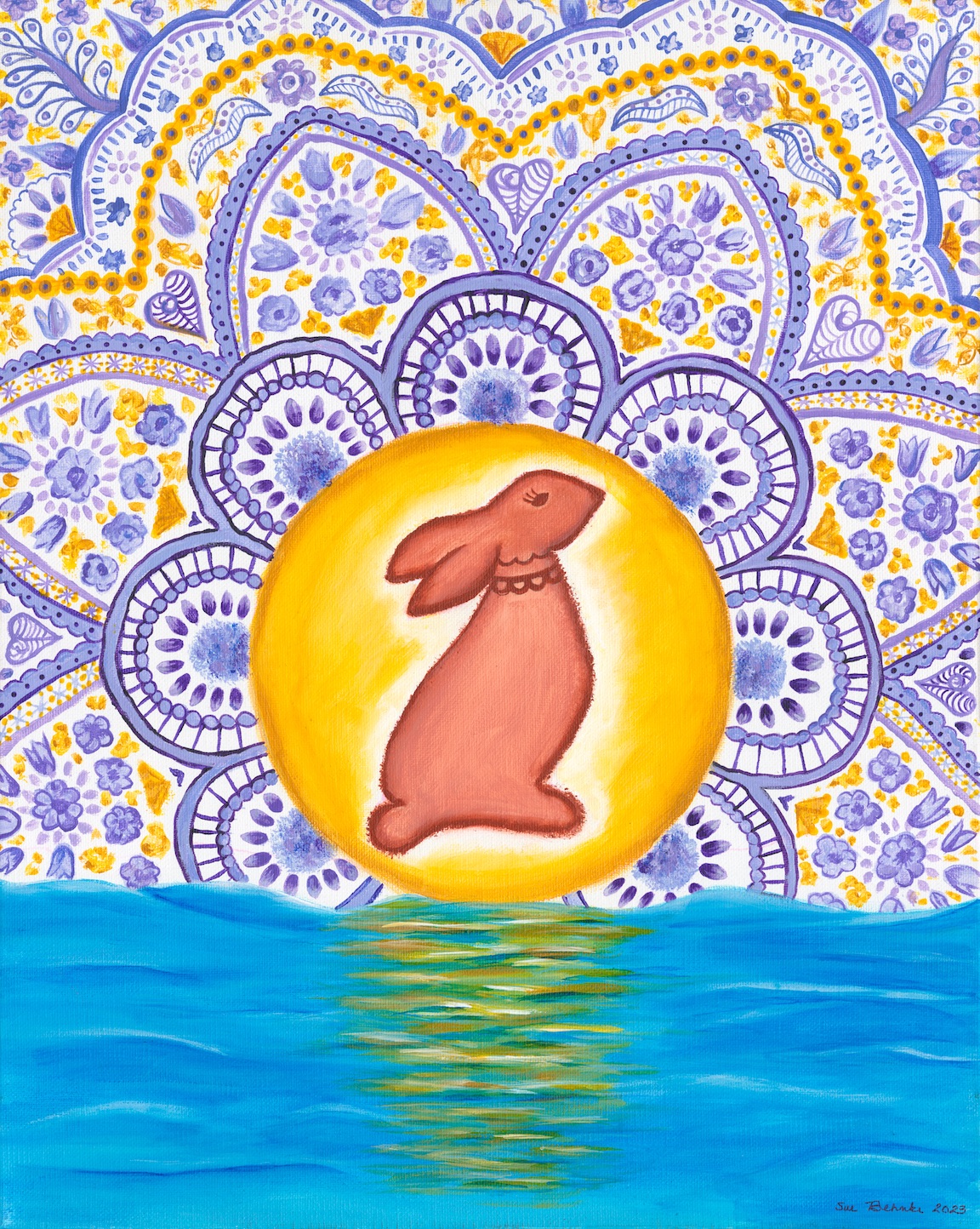 Mahabhuta (MA HA BOO TA) Yoga VegFest
YEAR OF THE WATER RABBIT
Thursday, November 9th – Sunday, November 12th, 2023
Mahabhuta Yoga VegFest 2023: Year of the Water Rabbit
Join us for the ultimate celebration of Yoga, Music, Art, Slackline, Aerial, Galactic Child Yoga and vegan cuisine at the Mahabhuta Yoga VegFest 2023 in sunny Pensacola, Florida! Get ready to immerse yourself in a weekend filled with yoga, delicious plant-based cuisine, and a vibrant community of like-minded individuals.
We are hosting the 12th and final festival at our original location at Sanders Beach 913 South I Street Pensacola Beach, FL 32502. In 2012, we opened the festival with the theme of the Water Dragon with the intention to commit to offering the Mahabhuta Yoga Festival for 12 years in sync with the 12 year Chinese zodiac cycle to bring healing to the waters of the Gulf of Mexico after the BP Oil spill. We celebrated the yang and yin energies through each element, we began with the water element and we are completing the journey in the water element. Each year, we wove the theme of the festival with the element and the animal associated with that year.
2012: Water Dragon: Follow Your Dream
2013: Water Serpent: Healing & Rebirth
2014: Wood Horse: Amazing Adventure
2015: Wood Sheep: Family & Friendships
2016: Fire Monkey: Action & Opportunity
2017: Fire Rooster: Inspire New Vision
2018: Earth Dog: Fairness & Equality
2019: Earth Pig: Ease & Enjoyment
2020: Metal Rat: Clean & Clear
2021: Metal Ox: Transformation
2022: Water Tiger: Courage & Leadership
2023: Water Rabbit: Peace & Calm
Starting on Thursday, Nov 9th, 2023, at 4 pm with an opening cacao ceremony and concert featuring Rahasya, this in-person event will take place at the stunning Sanders Beach venue located at 913 South I Street, Pensacola, FL 32502. Prepare to be inspired and rejuvenated as you explore various yoga styles, attend enlightening workshops, and connect with renowned yoga teachers and experts. We'll have a retrospective art showing of all the artwork throughout the years as well as a slideshow presentation during the Friday night dinner.
Discover the power of yoga to transform your mind, body, and spirit, while also indulging in delectable vegan cuisine that will tantalize your taste buds. From mouthwatering plant-based dishes to refreshing smoothies and dessert. Whether you are a seasoned yogi or just starting your journey, the Mahabhuta Yoga VegFest 2023 offers something for everyone.
Immerse yourself in the positive energy of this vibrant community, make new friends, and leave with a renewed sense of connection and well-being. Don't miss out on this incredible opportunity to deepen your yoga practice, explore the benefits of a plant-based lifestyle, and connect with fellow practitioners. Mark your calendars for the Mahabhuta Yoga VegFest 2023 in Pensacola, Florida, and get ready for an unforgettable experience!
Featured Musicians:
Natalia Clavier
Sean Johnson & WLB
HuDost
Ananda Das
Max Ribner
Rahasya
Stacey Vann
Holy River
Rahasya
Brynnevere
Sadhana Sisters
Out of Doors
Tickets are limited to 250 participants. Thank you for your support for creating the Magic of Mahabuta.
Yoga attendees have the option to arrive on Thursday, November 9th, 2023 for the opening ceremony and participate in a cacao ceremony followed by a special evening concert. Friday, November 10th, 2023 will feature a retrospective slideshow as well as an art showing of all the previous custom artwork designed for each year followed by a WELCOME dinner for 100 guests with an intimate concert.
Yoga classes begin on Saturday, November 10th, 2023 and close after sunset on Sunday, November 12th, 2023.
TICKETS COSTS:
$250 for Weekend Pass
$125 for Single Day
$30 Cacao Ceremony
$40 Single Workshop
$100 Welcome Dinner & Concert at Sanders Beach
VOLUNTEER WEEKEND PASS Volunteer opportunities are available upon acceptance of application. Only 50 volunteer positions are available, please email [email protected] if interested. COST: $125
We would love for you and other members of your tribe to join us to celebrate yoga, elevate consciousness, and unite communities. The mission is to celebrate yoga, elevate consciousness, unite communities, create abundance & inspire greatness while educating, supporting, and nurturing sustainable holistic integrative practices and conscious lifestyles that promote harmony, vitality, and unity to assure spiritual, societal, environmental, and global prosperity for all beings. 
No Refunds once ticket has been purchased, you may transfer ticket to another individual.
Mahabhuta Yoga VegFest
Sanders Beach
913 South I Street
Pensacola, FL 32502
November 9-12, 2023