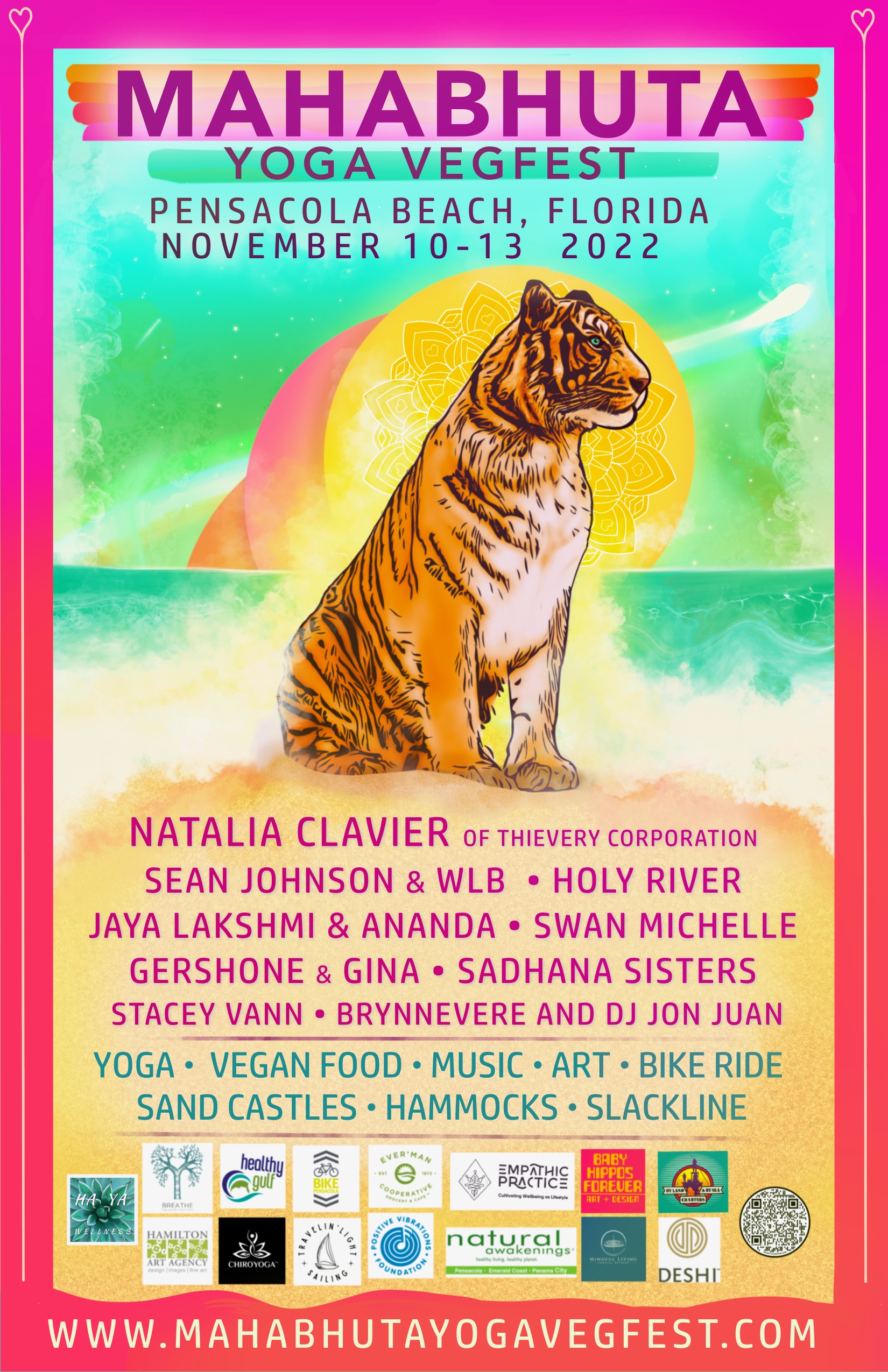 Mahabhuta
(MA HA BOO TA) Yoga VegFest
Nov. 10 – 13, 2022
Margaritaville Beach Hotel
165 Fort Pickens Rd Pensacola Beach
Welcome the Free-Spirited Water Tiger embodying passion, creativity, open-mindedness, and life force. A time to be brave, bold, and adventurous.
Our workshops celebrate the theme of the Water Tiger hosted along the stunning Gulf of Mexico on Pensacola Beach.
A festival celebrating vegan food, yoga, dance, breath, meditation, nature, music, art, and community. Enjoy the outdoors; visiting the eclectic food vendors, artisan village, music concerts, Galactic Child Yoga tent, Flow Arts presenters and performers, while perusing the sand art installations. We are leading the way to facilitate Zero Waste festivals.
The festival opens with a special ceremony on Thursday, November 10th, 2022 to begin the 4 day process of creating an earth mandala on site at the hotel where guests can observe this work of art intentionally created to encourage healing, peace, and purification. The mandala is a free community event to bless the space where we will be practicing yoga and meditation.
The incredible quartz sand of Pensacola Beach will further inspire attendees with sand sculptors creating unique sand art installations all day on Friday, November 11th, 2022 where the main festival grounds are located in front of the Landshark Landing Beach Bar & Grill.
Dan Anderson of Dan Castles home to the Gulf Coast will bring his team to create a pinnacle sand sculpture featuring the Year of the Water Tiger . On Saturday, November 12th, 2022, Dan Castles will host a free public sand building workshop along with fun beach games for the family including corn hole, spike ball, and pro kadima beach paddles.
Yoga attendees have the option to arrive on Thursday, November 10th, 2022 for the opening ceremony and to prepare for Friday, November 11th, 2022 immersions including the options to attend a private sail with Travelin' Light Sailing, spa experience with Deshi, and a WELCOME dinner for 100 guests to enjoy the wonderful atmosphere and cuisine of the Grand marlin with an intimate concert.
Yoga classes begin before sunset on Friday, November 11th, 2022 and close after sunset on Sunday, November 13th, 2022 in our outdoor tent.
TICKETS COSTS:
$250 for Weekend Pass
$125 for Single Day
$40 Single Workshop
$100 Welcome Dinner at Grand Marlin with Jaya Lakshmi & Ananda Concert
Parking is limited at the Landshark Landing permitting 100 spaces for attendees staying offsite with weekend passes. Overflow Parking is available at the Casino Beach Parking Lot.
FREE Entry to the VegFest, all the food vendors will be located at Casino Beach near the boardwalk for all to enjoy. It is .4 miles from the Margaritaville Beach Hotel festival grounds.
VOLUNTEER WEEKEND PASS Volunteer opportunities are available upon acceptance of application. Only 50 volunteer positions are available, please email [email protected] if interested. COST: $125
We would love for you and other members of your tribe to join us to celebrate yoga, elevate consciousness, and unite communities. The mission is to celebrate yoga, elevate consciousness, unite communities, create abundance & inspire greatness while educating, supporting, and nurturing sustainable holistic integrative practices and conscious lifestyles that promote harmony, vitality, and unity to assure spiritual, societal, environmental, and global prosperity for all beings. 
No Refunds once ticket has been purchased, you may transfer ticket to another individual.
Yoga attendees have the option to arrive on Thursday, November 10th, 2022 for the opening ceremony and to prepare for Friday, November 11th, 2022 immersions.
Book a 2 hour sailing adventure on Friday, Saturday or Sunday with Travelin' Light Sailing. Register HERE!
Deshi Spa Services:

Microderm Glow: 30 mins $90
Microderm Glow: 1 hour $170
Be amazed at the glow you will get after microdermabrasion, custom clay mask with lactic acid ( safe for all skin types) followed with a pure Hyaluronic acid infusion.
Goddess Glow with DeSheri 1 hour 15 mins $220
Enjoy this amazing spiritual journey facial with microdermabrasion, enzyme treatment, Egyptian rose mask and a pure Hyaluronic Acid ending with a Gua Sha massage.
Booking Link: HERE!
Mahabhuta Yoga VegFest
Margaritaville Beach Hotel
165 Fort Pickens Road
Pensacola Beach, FL 32561
November 11-14, 2022
Mahabhuta Yoga Veg Fest Times:
Day 1: Thursday, November 10th, 2022 4:00 pm – 6:00 pm
Day 2: Friday, November 11th, 2022 9:00 am – 10:00 pm
IMMERSIONS & WELCOME DINNER
Day 3: Saturday, November 13th, 2022 6:30 am – 10:00 pm
Day 4: Sunday, November 14th, 2022 6:30 am – 9:00 pm