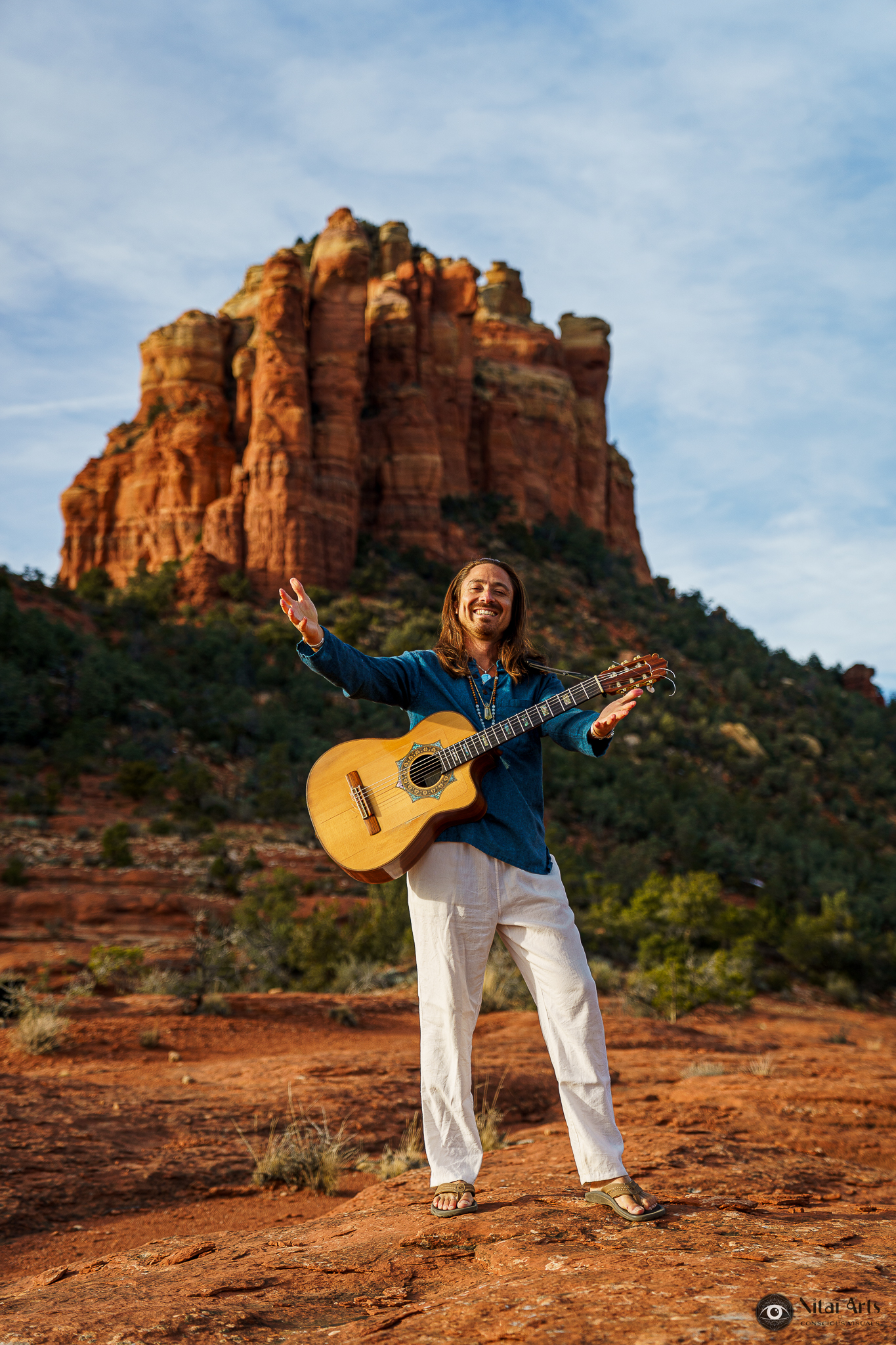 CONCERT WITH ANANDA DAS

Friday, November 10th, 2023 7:30 pm – 9:30 pm
Let the rhythm of your heart align with the captivating melodies and healing vibrations as Ananda Das, the internationally acclaimed musician, takes center stage. His music is a catalyst for healing hearts and inspiring joy and devotion. Through a magical blend of kirtan, devotional melodies, soulful ballads, and energetic rock and reggae songs, Ananda Das invites you to join him in a sacred community where your heart can open and your spirit can soar.
SATTVA YOGA; EXPERIENCE THE BLISS OF YOUR BEING WITH ANANDA DAS
Saturday,November 11th, 2023 10:30 am – 12:00 pm

If you're desiring to invite more prosperity into every facet of your life, join us in exploring the realm of abundance that touches on health, relationships, career, material possessions, finances, and spirituality. In this endeavor, we will align ourselves with the radiant energy of Goddess Lakshmi, the embodiment of prosperity and opulence. Through a harmonious blend of kriyas, meditations, mantras, asanas, and more, we will attune ourselves to the supreme goddess of abundance.
Prepare to open your heart and immerse yourself in the sweetness of a Lakshmi-themed yoga class. Together, we'll embark on a journey to embrace prosperity in all its dimensions.
Sattva Himalayan Kundalini Yoga represents an ever-evolving and inclusive practice encompassing meditation, kriya, asana, movement, pranayama, boundless vitality, and timeless wisdom. This practice draws from the rich traditions of Hatha and Kriya Yoga, integrating profound purification sequencing. As you engage with this practice, anticipate subtle shifts on the cellular level, a dynamic mind-body experience, and a serene meditative journey.
This practice holds incredible power in stabilizing emotions, alleviating anxiety, diminishing fear, and facilitating deep healing. It serves as a nurturing ground for cultivating joy, bliss, love, peace, serenity, and an invigorating sense of aliveness. Embark on this journey to explore the transformative potential of this remarkable technology, which is dedicated to nurturing your prosperity and allowing you to flourish in all realms of life. CHECK OUT current offerings https://anandadas.info/
Ananda Das is inspired by a deep passion for sharing his love and expertise in singing, music, devotion (bhakti), and yogic practices. With a strong foundation in teaching both groups and individuals, he has honed state-of-the-art techniques to unlock the fullest potential of the voice and to tap into the boundless depths of devotion.
Having embarked on his musical journey in 2000, Ananda has been an accomplished singer and guitar player for over two decades. With a dedicated yogic path of over 15 years, his offerings are infused with a profound sense of devotion that transmits and empowers.
Ananda's musical journey has resulted in the release of two studio solo albums, along with an impressive catalog of over 14 albums in collaboration with his music partner, Jaya Lakshmi. Recognized as the dynamic duo Jaya Lakshmi and Ananda, they embarked on extensive tours and organized more than 200 events annually from 2011 to 2020.
A devoted practitioner and teacher of Kundalini Yoga as taught by the Kundalini Research Institute since 2006, Ananda's commitment to his spiritual practice shines through. In April 2020, he furthered his yogic knowledge by completing a 300-hour teacher training in the Himalayan Yoga tradition known as Sattva Yoga. This journey continued in May 2020 with the successful completion of an 18-day, 60-hour course focused on the Bhagavad Gita. Both the 300-hour and Gita courses were guided by Anand Mehrotra, a Himalayan yogic master.
Complementing his rich yogic journey, Ananda holds a Bachelor's degree in International and Sustainable Business, accompanied by a minor in East Asian Religions. He further deepened his understanding of yogic philosophy during his academic years at the University of Oregon and the Dharmalaya between 2003 and 2009.
Mahabhuta Yoga VegFest
Sanders Beach
913 South I Street
Pensacola, FL 32502
November 9-12, 2023