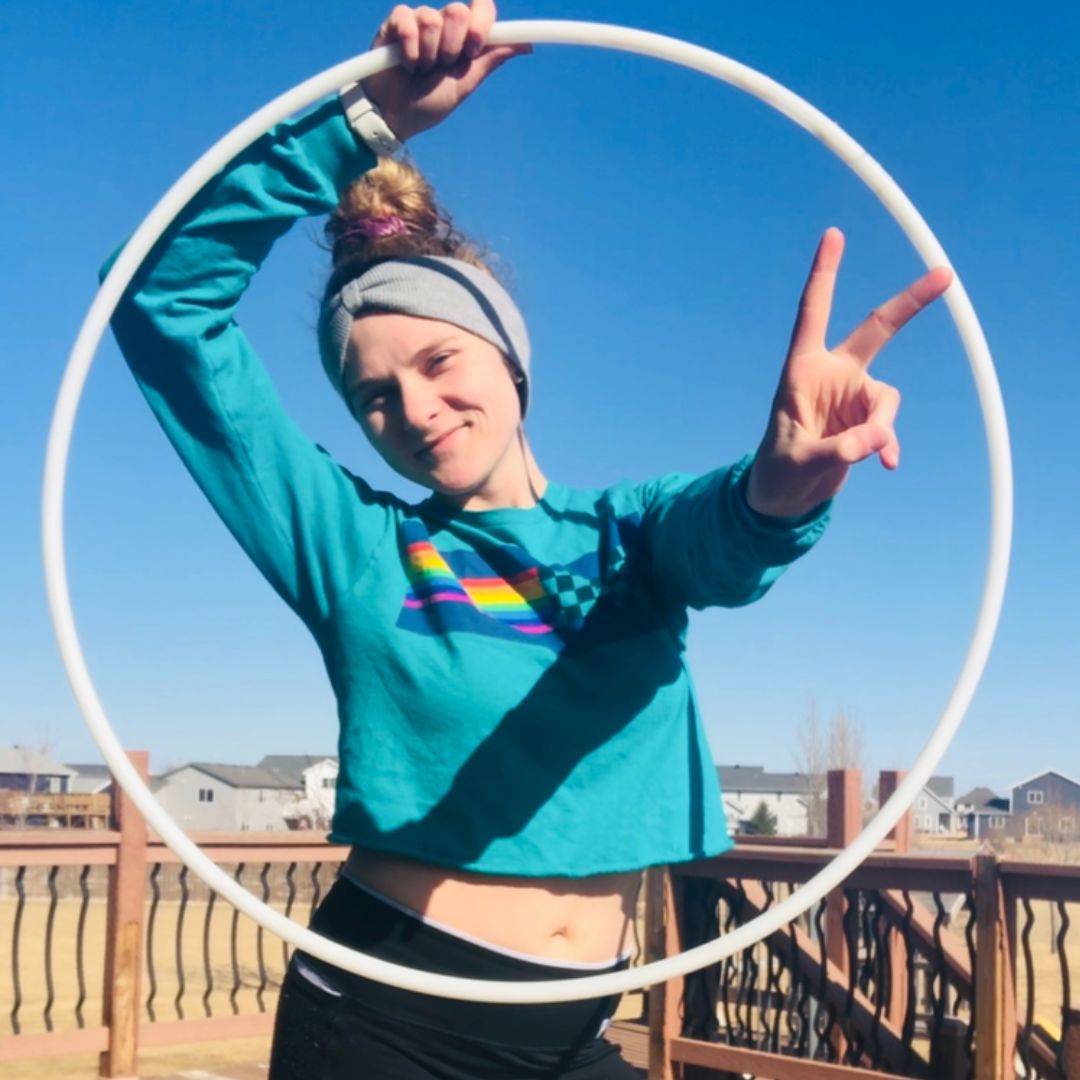 HULA HOOP CLASS WITH CARLY BUECHNER
What we'll cover: Waist hooping basics; Beginner Leg hooping; Beginner off-body moves; Finding Flow (transitions and connecting moves).  
This class will introduce beginner off-body moves demonstrations including isolation, lasso, vortex, weave, and jump throughs. Open up your energy to finding your flow! END WITH A DANCE PARTY.
Carly moved across the country from North Dakota to Florida a year and a half ago. She is a dedicated Hula Hooper with an established practice for over 7 years. Hula hooping is one of the greatest passions in her life. She began the practice while she was pregnant with her son as an outlet for her mind and body. She let go of her worries and created time for herself by focusing on the joy of dancing in her hula hoop. She loves the feeling of flow which has truly changed her in so many ways for the better. 
What started as simple waist hooping in her backyard has expanded to a variety of hoop tricks, multiple hoops, light up hoops and fire hoops! Carly loves to perform for events and parties and enjoys sharing and teaching this practice to others. There's much more too it than just a little plastic circle, and Carly loves empowering others to begin happily hula hooping around your waist if you are a beginner…or flinging it above your head with a pizza toss if it's not your first time.
Mahabhuta Yoga VegFest
Margaritaville Beach Hotel
165 Fort Pickens Road
Pensacola Beach, FL 32561
November 11-14, 2022
Mahabhuta Yoga Veg Fest Times:
Day 1: Thursday, November 10th, 2022 4:00 pm – 6:00 pm
Day 2: Friday, November 11th, 2022 9:00 am – 10:00 pm
IMMERSIONS & WELCOME DINNER
Day 3: Saturday, November 13th, 2022 6:30 am – 10:00 pm
Day 4: Sunday, November 14th, 2022 6:30 am – 9:00 pm