Sean Johnson & the Wild Lotus Band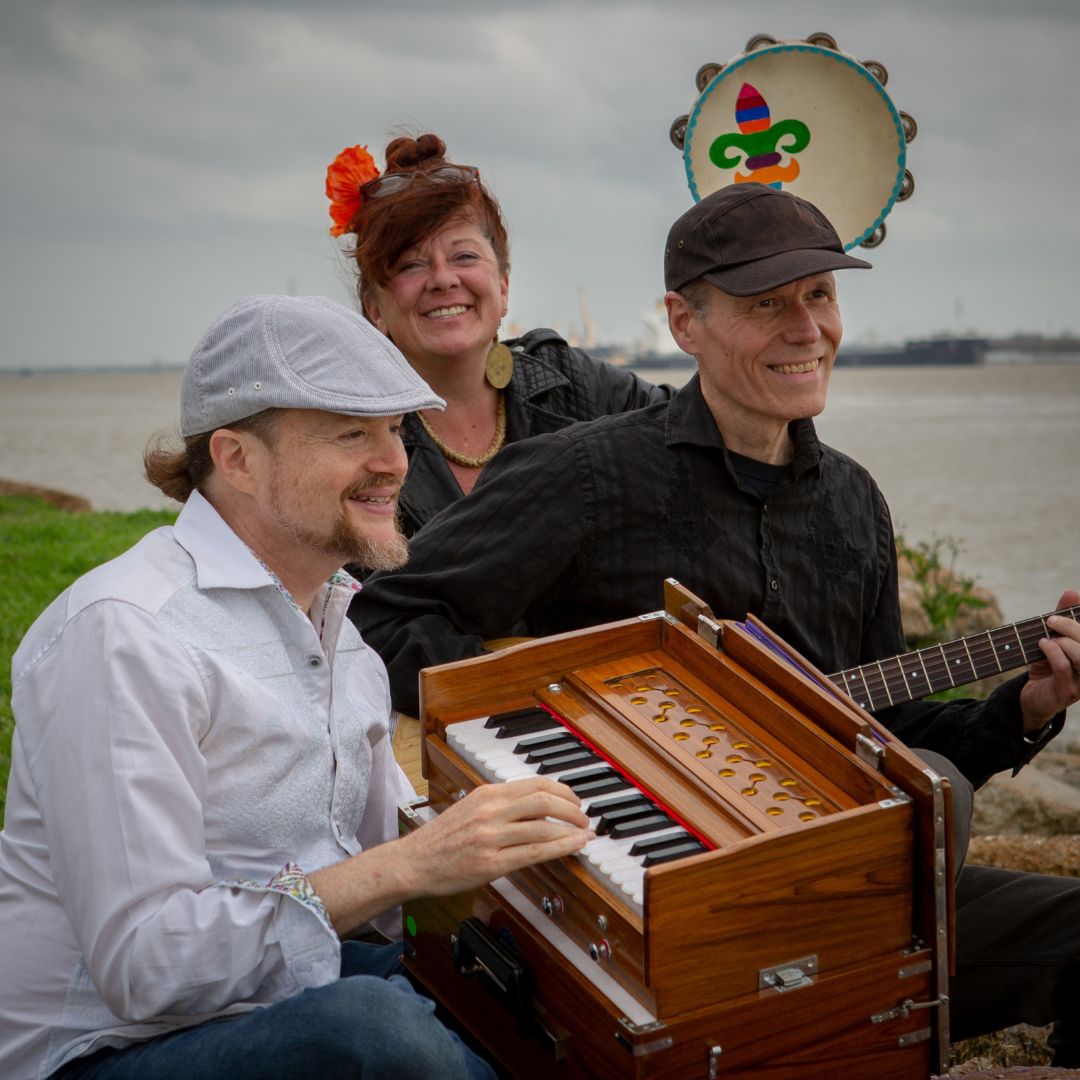 BHAKTI ON THE MAT: STORYTELLING & LIVE MUSIC FLOW WITH SEAN JOHNSON & THE WILD LOTUS BAND 
Merge the heart-opening qualities of bhakti yoga with the sensuality and vitality of asana. This deep and playful all-levels practice includes storytelling from the mythical world of yoga, soul-stirring kirtan, graceful vinyasa sequences, imaginative meditations, and evocative live music. Some experience with yoga is recommended. Sean and the band have guided this workshop at festivals and conferences across the country including sold-out attendance at The Yoga Journal Conference and Bhakti Fest. Click here to view Bhakti on the Mat in action.
For the last sixteen years, New Orleans-based Seán Johnson And The Wild Lotus Band (Alvin Young and Gwendolyn Colman) have been putting a New Orleans and American stamp on spiritual music by merging ancient mantras from the traditions of yoga, global chants, conscious lyrics, roots, rock, gospel and world grooves. Brought together in September 2005 initially as a creative, philanthropic touring music project in response to the destruction of Hurricane Katrina, they have gone on to become an inspiring and influential presence within the realm of world devotional music. With honor and appreciation for the deep roots of sound and chant from India's yoga traditions and sacred chants from around the world, they seek to create authentically relatable spiritually-based mantra-centric music accessible to all. The band's music is a vehicle to create a revelatory journey that deepens connection, fosters healing, and moves people's hearts through music. In 2021, they dropped their new album titled Mystery on Be Still Records, with 10 new songs.
Seán, Alvin, and Gwendolyn tour extensively as a trio and are a favorite headliner at music festivals, including many spiritual, yoga, and conscious music gatherings nationwide. In 2010 they were the first kirtan band to ever play The New Orleans Jazz Festival to a large and appreciative crowd. Their debut at Jazz Fest was noted by Offbeat Magazine at the time, and chronicled in the international online magazine Elephant Journal. They were invited back to the Jazz Fest stage in 2014, where GoNOLA.com named them "Top Pick For Day 2 Of Jazz Fest" along with Phish and Robert Plant. In 2015, they made their third trip to the Jazz Fest stage to share the joy and power of their New Orleans-crafted mantra music and their set was featured in the Huffington Post, Bhakti Beat, and My Spilt Milk. 
https://seanjohnsonandthewildlotusband.com IG @seanwildlotusband
Mahabhuta Yoga VegFest
Margaritaville Beach Hotel
165 Fort Pickens Road
Pensacola Beach, FL 32561
November 11-14, 2022
Mahabhuta Yoga Veg Fest Times:
Day 1: Thursday, November 10th, 2022 4:00 pm – 6:00 pm
Day 2: Friday, November 11th, 2022 9:00 am – 10:00 pm
IMMERSIONS & WELCOME DINNER
Day 3: Saturday, November 13th, 2022 6:30 am – 10:00 pm
Day 4: Sunday, November 14th, 2022 6:30 am – 9:00 pm