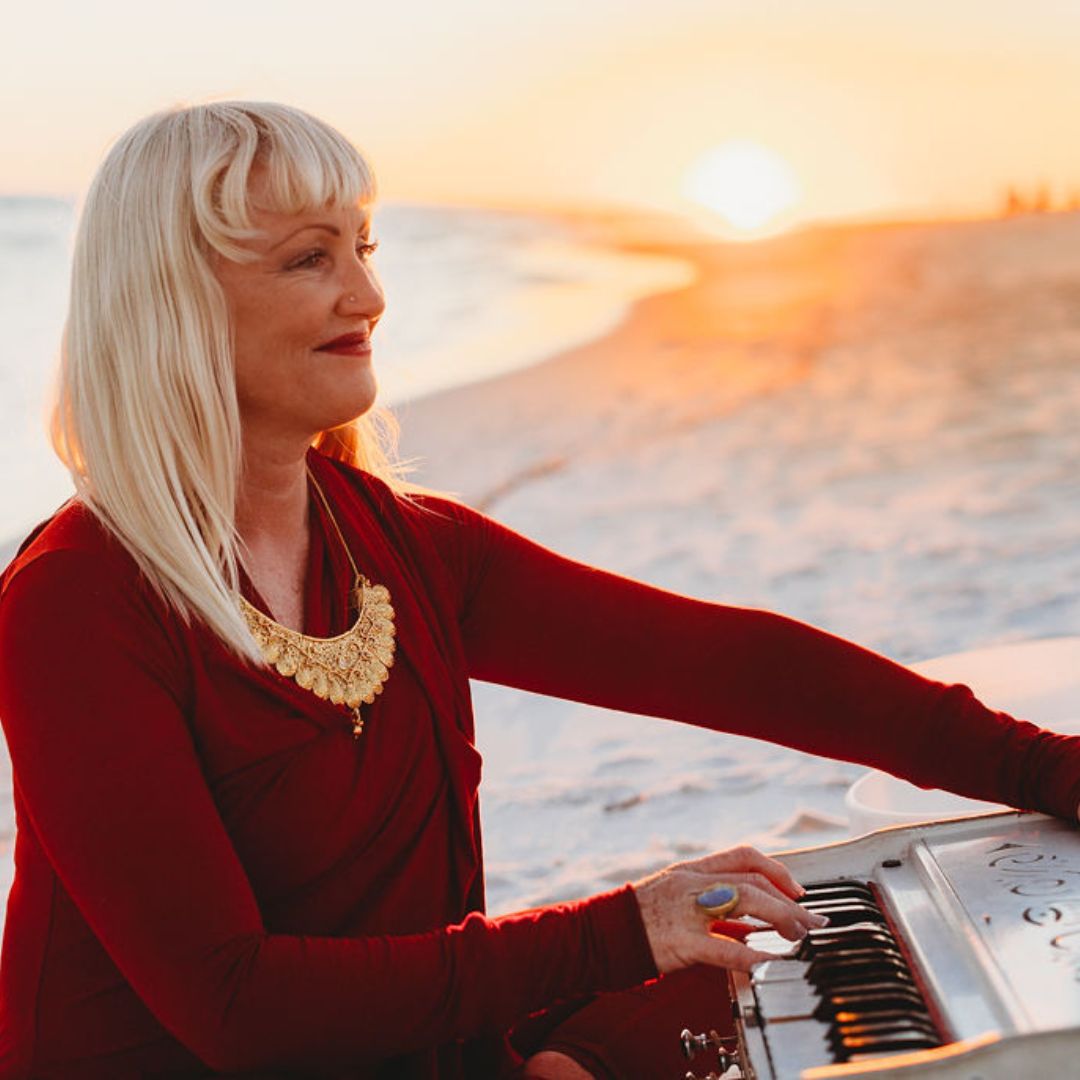 SONIC FLOW & SPA SOUND BATH WITH SWAN MICHELLE & REBECCA SATHRE
Special Guests Sughosh Berg & Valerie Viosca
Sponsored by The Positive Vibrations Foundation 
Enjoy ambient resonant mantra tunes sung live by Swan Michelle & accompanied by Goshi Berg with a low key, mellow vibe slow flow, all levels asana class by Rebecca. This class will take it's time, activating presence, awareness, and listening. Half way through, you will lie down in a long 45 minute relaxation pose and receive the sacred sounds of a classic Sound Bath by Swan Michelle while Rebecca offers gentle Thai Massage Spa style & aromatherapy & Valerie offers Acupressure to cap off the Mahabhuta celebration.
A Sound Bath is a pure high vibrational, intentional lying down concert including pure hertz frequency instruments such as crystal bowls, planetary gongs, tuning forks, balinese metal drums, elemental chimes & soothing serenade of sacred mantra by Swan Michelle. This is a recalibrate and reset of the nervous system, energy body and chakras back into symphonic homeostasis. In yoga, luminous sound, tuning in and listening are the most original form of healing and interconnection as all things come from sound.
Swan Michelle has been teaching yoga full time since the year 1998 as one of the first handful of yoga teachers in New Orleans. She is the Founder of Swan River Yoga | New Orleans Yoga . She created the first Yoga Teacher Training in the region in 2006 and has blessedly taught thousands of beings yoga.
Michelle has numerous certifications in a strong classical lineage, including Ram Dass, Jivamukti Yoga, Ashtanga Yoga, Anusara Yoga and Sivananda certifications, studying with such teachers as Radhanath Swami, Sharon Gannon, Shri K. Pattabhi Jois, Amma, the hugging Saint , HH the Dalai Lama, Dr. Jaya Shri MD Sanskrit Scholar, Jai Uttal, Krishna Das Bhakti musician and Judith Lasater the creator of Restorative Yoga.
She has traveled to India and Bali, the East, numerous ashrams and world many times to gather trainings in Asana, Sound Therapy, Restorative Yoga Therapy, Ayurveda, Reiki, Bhakti Yoga and Yoga Nidra. Her specialties are offering and leading Yoga
Trainings, Sound Bath Concerts and offering both local and International Yoga Retreats by the beach. She is also blessed to be a part of a strong female owned business in New Orleans,
Now at her new home in Pensacola Beach, FL, she offers these trainings, Sound Bath concerts and Eco-Wellness Retreats with The Positive Vibration Foundation & Island Skye Spa. She adores being by the ocean of devotion, where she loves to surf, paddle board, swim and commemorate with the sacred waters.
FB: Swan Michelle 
IG: Swan_Michelle
http://www.pensacolabeachwellness.com 
Goshi Berg is the owner of Good Karma Cafe New Orleans, located inside of Swan River Yoga. His father is the President of ISKCON New Talavan in Carriere MS, where Goshi grew up playing music, singing, and dancing as a means to serve and uplift consciousness. 
Valerie Viosca  New Orleans Licensed Acupuncturist,  has attended massage school in Taos, NM &  Acupuncture school and yoga training in Santa Fe, NM. As she combines the Chinese Medicine, manual therapies, acupressure  and yoga therapeutic techniques taught by Tias Little.
Mahabhuta Yoga VegFest
Margaritaville Beach Hotel
165 Fort Pickens Road
Pensacola Beach, FL 32561
November 11-14, 2022
Mahabhuta Yoga Veg Fest Times:
Day 1: Thursday, November 10th, 2022 4:00 pm – 6:00 pm
Day 2: Friday, November 11th, 2022 9:00 am – 10:00 pm
IMMERSIONS & WELCOME DINNER
Day 3: Saturday, November 13th, 2022 6:30 am – 10:00 pm
Day 4: Sunday, November 14th, 2022 6:30 am – 9:00 pm