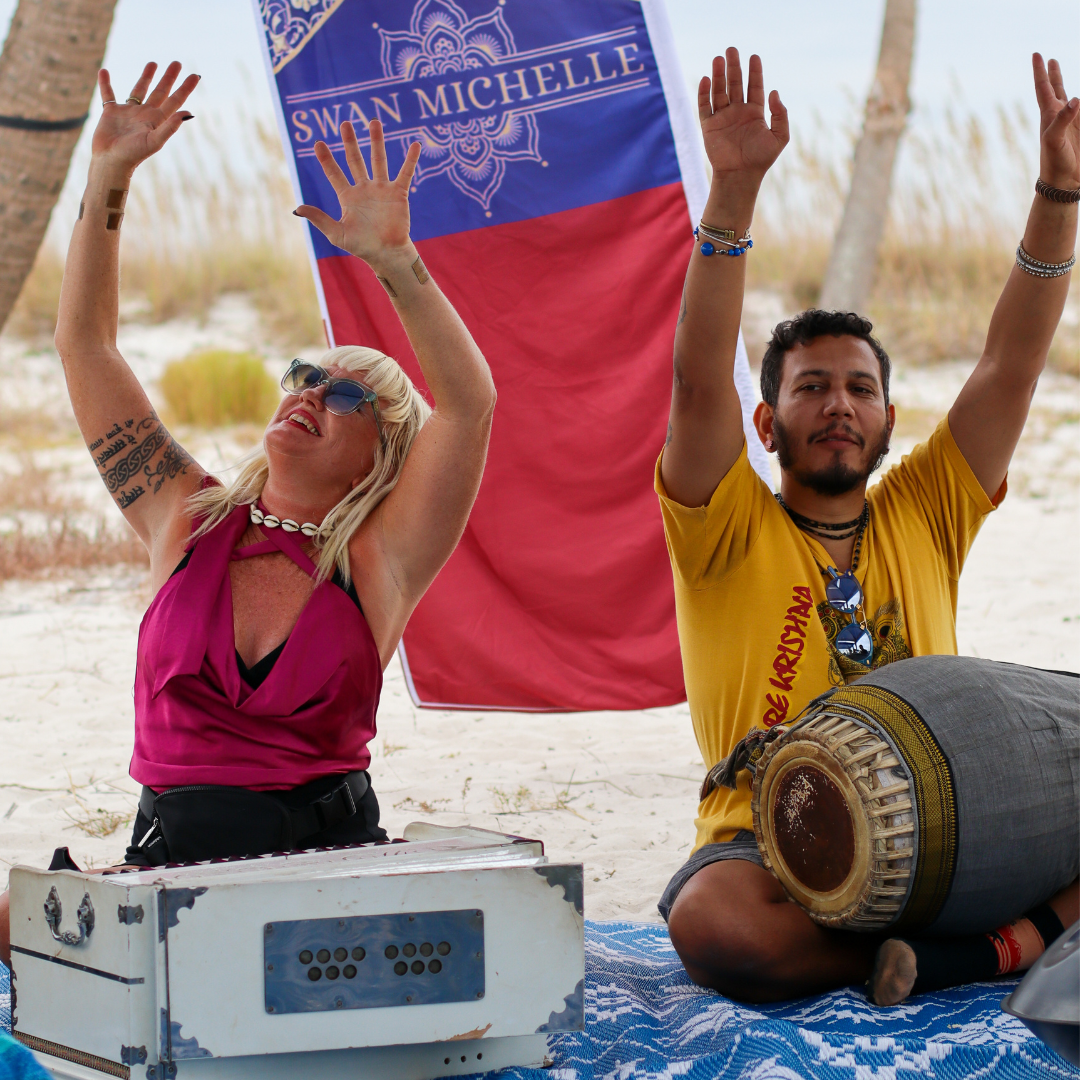 COMMUNITY SOUND & DRUM JAM

Swan Michelle, Goshi Berg & The Pensacola Drum Circle 
Saturday, November 11th, 2023 12:00 pm – 1:30 pm
A community sound collaboration and collective sponsored by The Positive Vibrations Foundation 
Prompted by Swan Michelle and Goshi Berg, bring your drum, song, rattle, instrument, singing voice, harmonium, dancing mood, singing , chilling, listening, playing, & add to the collective in harmony  for outdoor recess under the Foundation's Tent 
SLOW FLOW & SOUND BATH

Swan Michelle & Rebecca Sarthre 
Sunday, November 12th, 2023 3:00 pm – 4:30 pm
Enjoy a 45 minute slow and low to the ground yoga asana practice lead by Rebecca with live musical accompaniment from Swan Michelle and Goshi Berg, followed by a 45 minute delicious Sound Bath with Swan Michelle, with Hugh hertz measured, wide variety of  instruments that harmonize the nervous system, pain in the body, and an incoherent mind, back into beauty, art, presence  and awareness. 
Enjoy ambient resonant mantra tunes sung live by Swan Michelle & accompanied by Goshi Berg with a low key, mellow vibe slow flow, all levels asana class by Rebecca. This class will take it's time, activating presence, awareness, and listening. Half way through, you will lie down in a long 45 minute relaxation pose and receive the sacred sounds of a classic Sound Bath by Swan Michelle while Rebecca offers gentle Thai Massage Spa style & aromatherapy & Valerie offers Acupressure to cap off the Mahabhuta celebration.
A Sound Bath is a pure high vibrational, intentional lying down concert including pure hertz frequency instruments such as crystal bowls, planetary gongs, tuning forks, balinese metal drums, elemental chimes & soothing serenade of sacred mantra by Swan Michelle. This is a recalibrate and reset of the nervous system, energy body and chakras back into symphonic homeostasis. In yoga, luminous sound, tuning in and listening are the most original form of healing and interconnection as all things come from sound.
All levels and family friendly 
Swan Michelle, a pioneer in the New Orleans yoga scene, has been wholeheartedly teaching yoga since 1998. She stands as the visionary Founder of Swan River Yoga, leaving an indelible mark on the region. In 2006, she crafted the first Yoga Teacher Training in the area, becoming a guiding light for countless yoga practitioners. Michelle's transformative Sound Bath experiences, introduced in 2012, have resonated across the Gulf Region, touching the lives of thousands.
With a foundation in a robust classical lineage, Michelle boasts a host of certifications from luminaries like Ram Dass, Jivamukti Yoga, Ashtanga Yoga, and Anusara Yoga. Her journey has been enriched by esteemed mentors such as Sharon Gannon, Shri K. Pattabhi Jois, Amma (the hugging Saint), HH the Dalai Lama, Dr. Jaya Shri MD Sanskrit Scholar, Jai Uttal, Krishna Das Bhakti musician, and Judith Lasater, the creator of Restorative Yoga. Embracing evolution, she has recently immersed herself in meditation, neuroscience, and quantum physics under the guidance of Dr. Joe Dispenza, and is studying to become a Neuro-consultant and meditation facilitator, delving into the transformative realm of the mind and science.
Michelle's quest for knowledge has taken her to India, Bali, and across the globe, where she immersed herself in trainings spanning Asana, Sound Therapy, Restorative Yoga Therapy, Ayurveda, Reiki, Bhakti Yoga, and Yoga Nidra. She excels in leading Yoga Trainings, orchestrating soul-stirring Sound Bath Concerts, and curating both local and international Yoga Retreats.
Now rooted in Pensacola Beach, FL, Michelle brings her expertise to the coast, entwining her love for the sea with her practices. She engages in activities like swimming, paddle boarding, and soulful singing, all while nurturing her deep connection with the sacred waters. Notably, she collaborates with the Positive Vibrations Foundation, shaping impactful Eco-Wellness Events that uplift the Pensacola Beach community.
Discover more about Michelle's offerings, including online courses, videos, mantra CD's, and insightful dharma blogs, on her personal website, http://www.swanmichelle.com, and her studio's site, www.swanriveryoga.com. Her musical journey also extends to platforms like Pandora and Spotify, and she is currently crafting a captivating Sound Bath CD.
FB: Swan Michelle 
IG: Swan_Michelle
Goshi Berg is the owner of Good Karma Cafe New Orleans, located inside of Swan River Yoga. His father is the President of ISKCON New Talavan in Carriere MS, where Goshi grew up playing music, singing, and dancing as a means to serve and uplift consciousness. 
Mahabhuta Yoga VegFest
Sanders Beach
913 South I Street
Pensacola, FL 32502
November 9-12, 2023